The DFC – Dynamic Functional Cage – is Panatta Sports innovative solution for functional training. Modern design with a strong solid and robust structure,  100% Made in Italy our Functional cage is the solution for any serious functional training gym or training centre.
In addition to the 4 standard options available, Panatta can create a completely customized dynamic functional training cage set up according to the available space and to the type of training.
RACKS AND DFC LOGO CHARACTERISE THE DESIGN
STURDY STRUCTURE CONSISTS OF 80X80X3MM E 80X40X3MM LOAD-BEARING SECTIONS
8MM THICK SHEETS
FRAME GUARANTEED 7 YEARS
MOBILE PANATTA MODULES CAN BE ASSEMBLED AND DISASSEMBLED AS DESIRED
SAFE HANDLING SYSTEM
STABLE AND INTUITIVE FASTENING SYSTEM THAT PROVIDES STABILITY DURING EXERCISE
FIXED PANATTA MODULES CAN BE SCREWED IN DIFFERENT POSITIONS TO MAKE FULL USE OF AVAILABLE EXERCISE SPACE
MOBILE PANATTA MODULE HANDLING AND FIXED PANATTA MODULE POSITIONING FLEXIBILITY CONFER HIGH COMPOSITION VERSATILITY TO THE STRUCTURE
COLOUR VARIATIONS ALLOW FURTHER CUSTOMISATION. ALL AERIAL COMPONENTS AND CROSSBARS ARE PAINTED GRAPHITE. ALL UPRIGHTS AND MOST PANATTA MODULES CAN BE PAINTED THE FOLLOWING COLOURS: RED, YELLOW, WHITE, BLACK, GRAPHITE AND SILVER.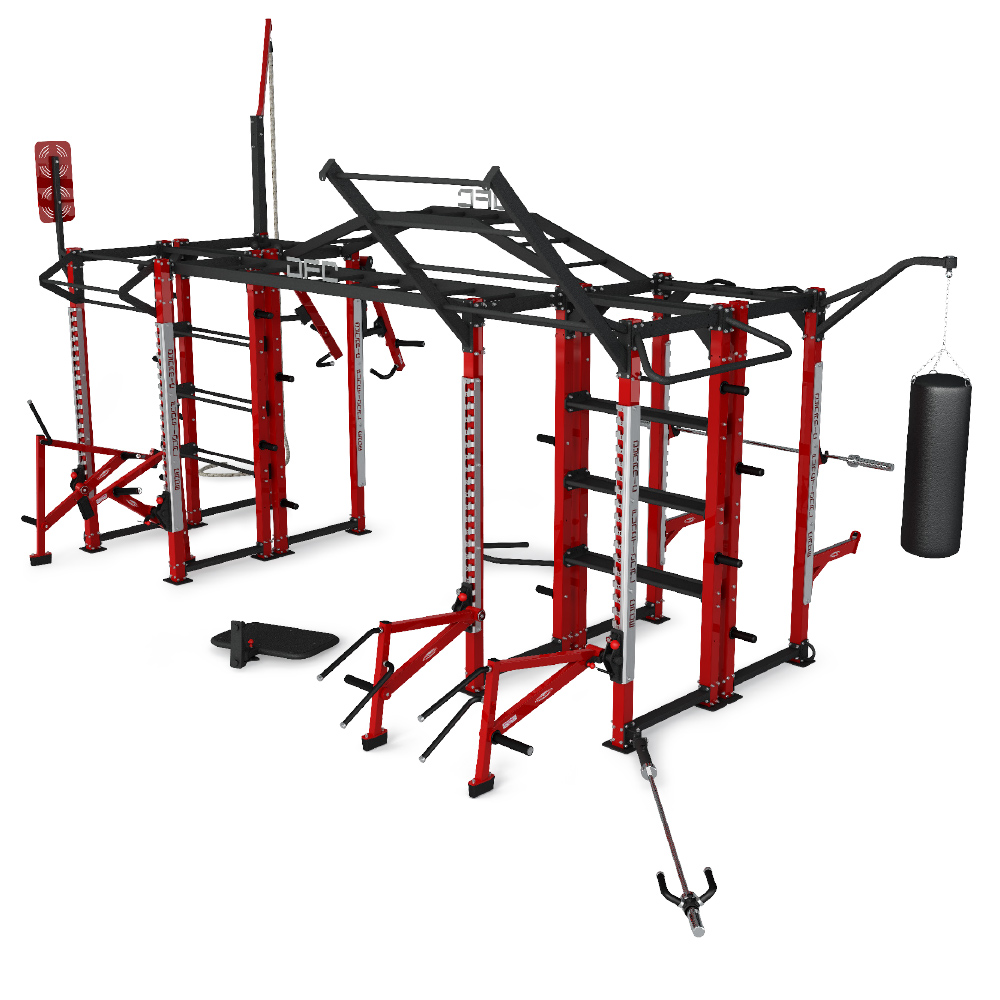 DFC 184 ELITE
1DFC001
Length 790 cm  | Width 420 cm | Height 410 cm | Weight 1370 Kg
Exercise space 60 (at least 6x10m), extra 7.5m on the battle rope use side
12 people can train simultaneously
4 training stations with racks for exercise set-up
4 different traction bars
9 extra training stations: horizontal ladder, inclined ladder, 2 lateral traction bars, punching bag, climbing rope, power joint, ball target and battle rope
6 racks for kettlebell, slam ball, med ball and wall ball
16 disk holders, 16 structural uprights and 20 crossbars and 2 connection ladders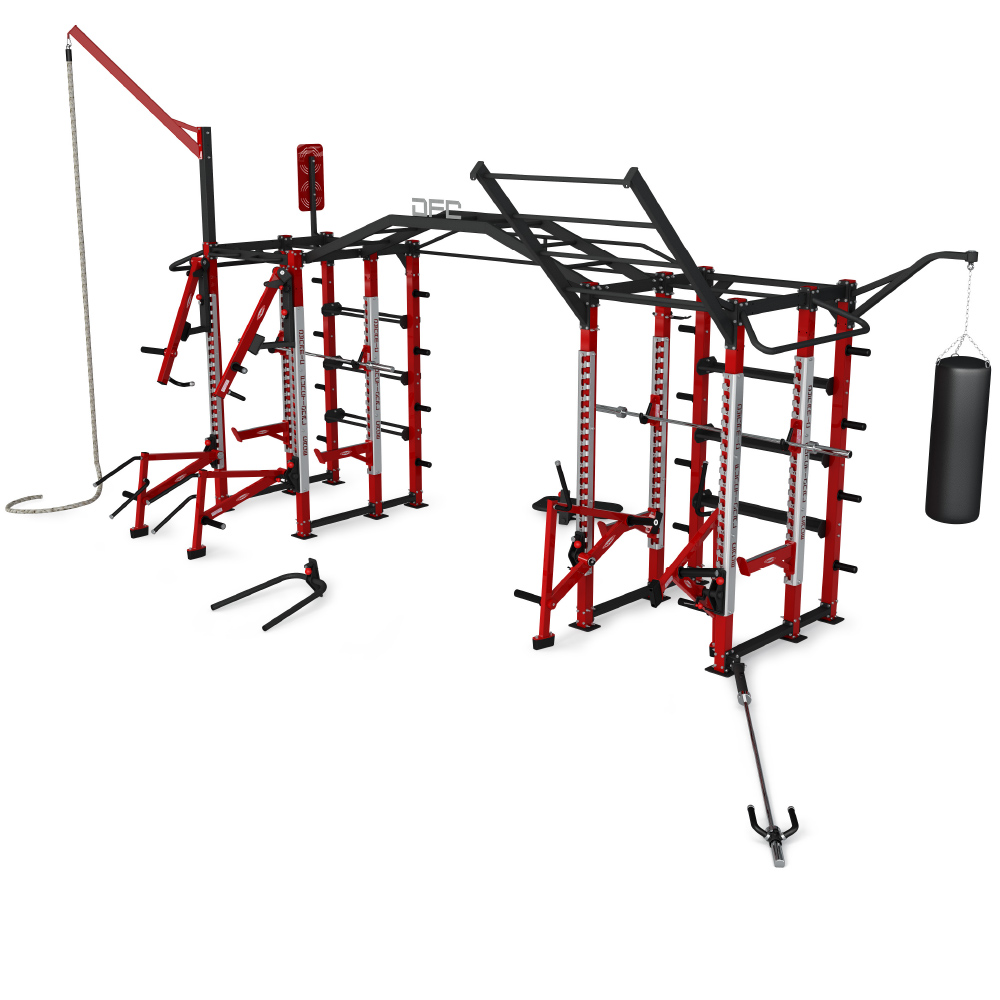 DFC 136 EDGE
1DFC002
Length 790 cm  | Width 310 cm | Height 410 cm | Weight 1000 Kg
Exercise space 50 (at least 5x10m), extra 7.5m on the battle rope use side
11 people can train simultaneously
4 training stations with racks for exercise set-up
2 different traction bars
9 extra training stations: inclined ladder, 3m long traction bar, 2 lateral traction bars, punching bag, climbing rope, power joint, ball target and battle rope.
6 racks for kettlebell, slam ball, med ball and wall ball
16 disk holders and 12 structural uprights and 18 crossbars
1 connection ladder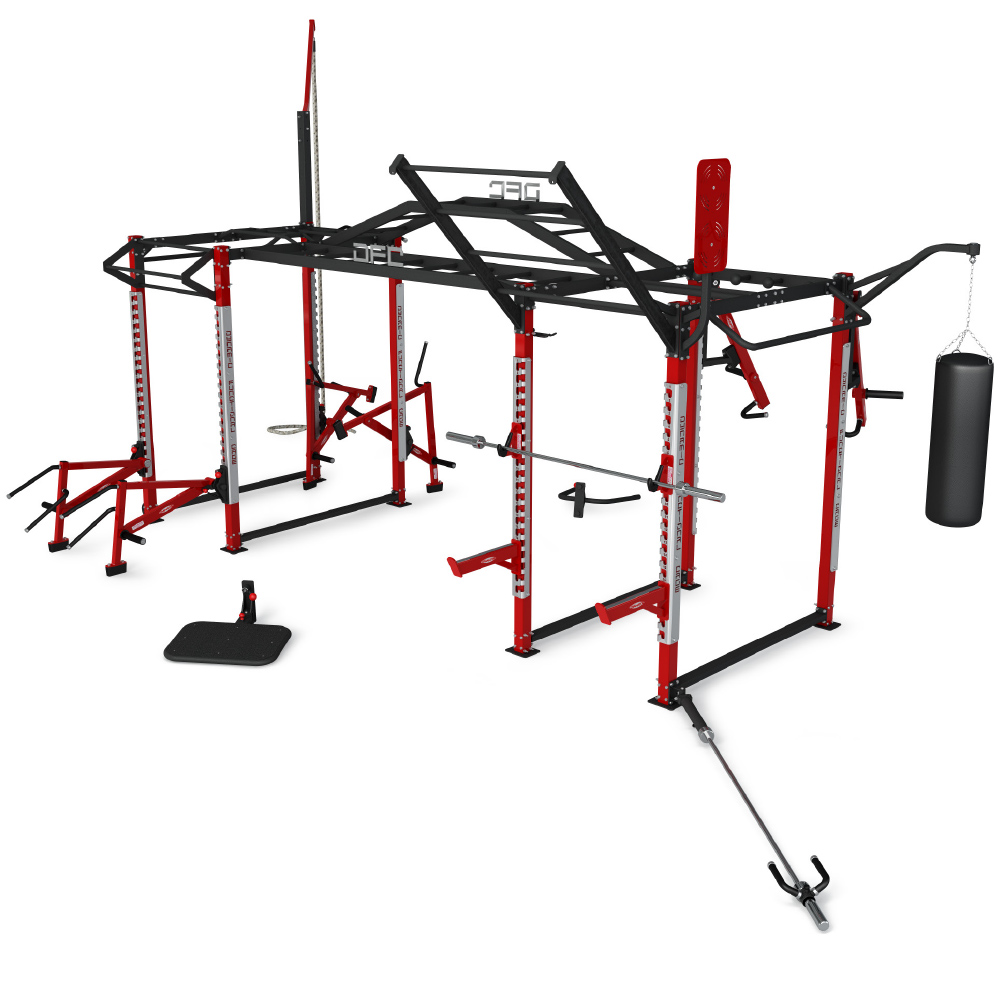 DFC 184 RIG
1DFC003
Length 800 cm  | Width 420 cm | Height 410 cm | Weight 885 Kg
Exercise space 60 (at least 6x10m), extra 7.5m on the battle rope use side
14 people can train simultaneously
4 training stations with racks for exercise set-up
6 different traction bars
9 extra training stations: horizontal ladder, inclined ladder, 2 lateral traction bars, punching bag, climbing rope, power joint, ball target and battle rope. 8 structural uprights and 8 crossbars with 2 connection ladders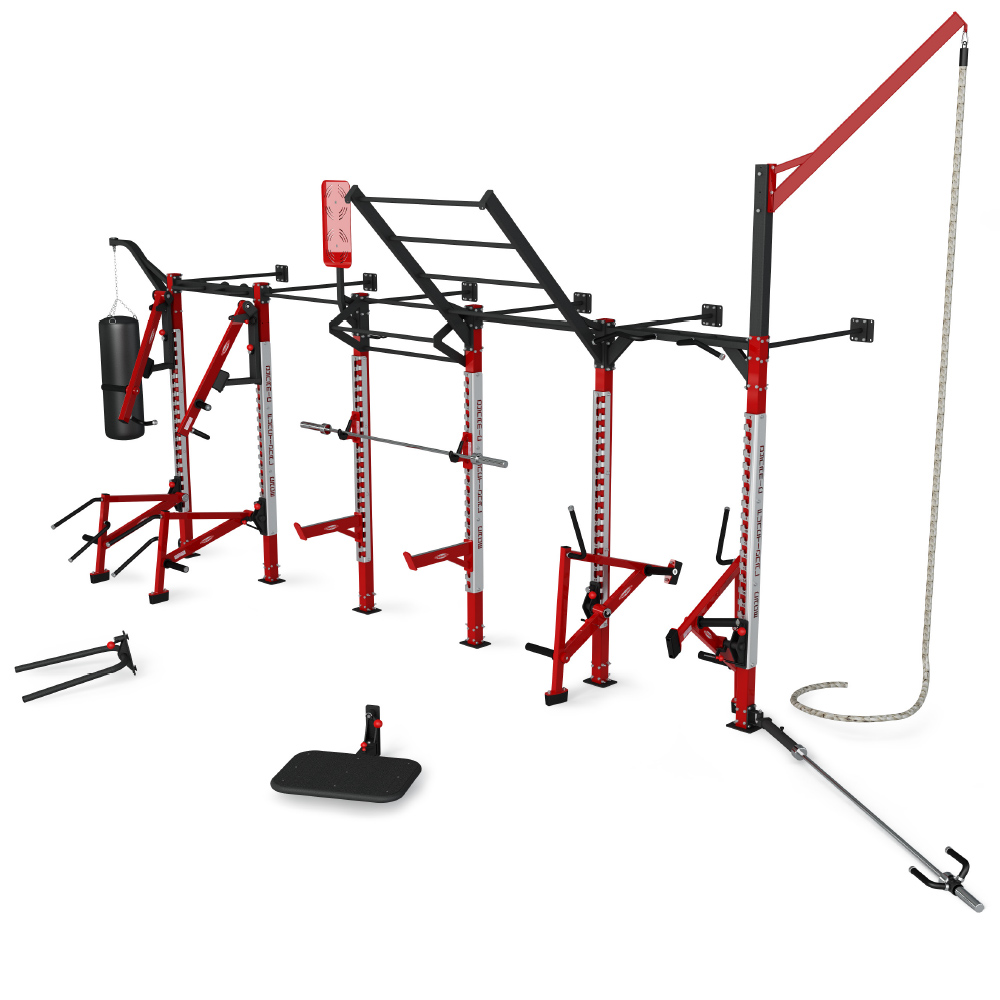 DFC 184 RIG
1DFC004
Length 900 cm  | Width 250 cm | Height 410 cm | Weight 630 Kg
Exercise space 45 (at least 4x11m), extra 7.5m on the battle rope use side
9 people can train simultaneously
3 training stations with racks for exercise set-up
4 different traction bars
12 extra training stations: inclined ladder, 6 wall mounted traction bars, punching bag, climbing rope, power joint, ball target and battle rope
6 uprights and 6 wall mounted connection crossbars